On this page you will find the answer to various forms of the question – where can I rent a tuxedo near me? The answer is that you can rent a tuxedo from any location in the contiguous US, for delivery directly to your door at NationalTuxedoRentals.com
Tuxedo Rental: Build a Tuxedo for $159 – using the easiest tuxedo builder tool around. Currently $40 off all complete tux packages built with the tuxedo builder.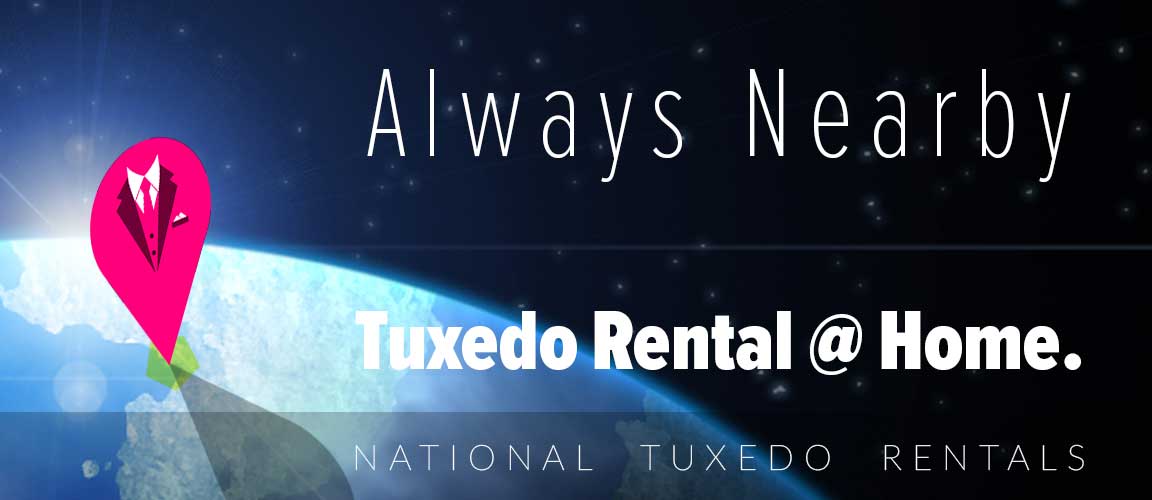 Looking for the easiest way to get a tuxedo in your area? Visit our rental tuxedo builder to build a complete tuxedo for just $159 and have it delivered to your door. Everything is included!
Here is a breakdown of regions and key locations that we serve.
Tuxedo Rental by State/Region
North-East United States – Rent a Tuxedo
We provide tuxedo rental service to anyone in the following states. It our shipping courrier can reach most northeastern states in a single day of transit. Our distribution center is located in Trenton, NJ – which makes formal wear delivery to these locations exceptional and fast.
Connecticut
Delaware
Maine
Maryland
Massachusetts
New Hampshire
New Jersey
New York
Pennsylvania
Rhode Island
Vermont
South-East United States – Rent a Tuxedo
When you rent a tuxedo in the southeastern US, you can be sure that your tuxedo will arrive very quickly. Our shipping distribution center is on the east coast which means our tuxedo rental service is right near you! Our shipping courier can have our packages delivered anywhere in the southeastern US in under 2 days with standard ground shipping service.
Alabama
Arkansas
Florida
Georgia
Kentucky
Louisiana
Mississippi
North Carolina
South Carolina
Tennessee
Virginia
West Virginia
South West United States – Tux Rental Near You
Arizona
New Mexico
Oklahoma
Texas
Mid-Western United States – Tux Rental Near You
Illinois
Indiana
Iowa
Kansas
Michigan
Minnesota
Missouri
Nebraska
North Dakota
Ohio
South Dakota
Wisconsin
Western United States – Rent a Tuxedo Near You
Alaska – We do not deliver to this state.
California
Colorado
Hawaii – We do not deliver to this state.
Idaho
Montana
Nevada
Oregon
Utah
Washington
Wyoming
Tuxedo Rental by Major City / Metro Area
Looking to confirm if we deliver to your area? We have provided online tuxedo rental services to the following metropolitan areas since 2005 – that's 15 years of professional online tuxedo rental services and products delivered to thousands of individuals in the busiest places in America. We have been in the tuxedo rental business since 1983 serving customers through our retail stores.
We have arranged a list of major cities that we serve, and the surrounding areas. We will continue to update this page with helpful information regarding each location. If you have any questions regarding tuxedo rental in your area, please do not hesitate to contact us.
Atlanta
Hello Georgia! We've been serving you for quite some time – have you tried our tux rental service yet? We can deliver our tuxes 10-14 days before your event with standard ground shipping – Atlanta is only 2 transit days away from our formal wear distribution center!
Austin
We have a long history of delivering tuxes in and around Austin. We stock so many styles that you'll absolutely love. No tuxedo rental service comes close to our flat-rate package prices, free included accessories, and high convenience factor in Austin, TX.
Baltimore
Baltimore is just a single day away via FedEx ground shipping from our Trenton distribution center. We've handled hundreds of events in Baltimore and other areas all over Maryland. Your rental items will arrive 10 days before youre event, and we can have exchanges to you within 1-2 days of notice. Sizing exchanges for tuxedo rentals are 100% free!
Boston
Bostonians have been renting with National Tuxedo Rentals since we launched in 2004, and we're happy to serve our friends in the big dig. Fast and free delivery, exchanges and returns will make it easy and convenient to rent a beautiful fitting tux.
Charlotte
Rent a tuxedo right from your home in Charlotte, NC! Our beautiful selection of formal wear is sure to satisfy, as well as our service which provides you with free early delivery 10-14 days before your event, free photo sizing, free exchanges, and free return shipping with home-pickup service.
Chicago
Get your tuxedo rental delivered directly to you in Chicago, IL – our complete tux packages come with everything you need for one flat rate. Start creating your look today and save $40 on your rental!
Cincinnati
Ohioans have enjoyed our rental service for a very long time – we've shipped many tuxes with success and praise from our customers each time. Try our tuxedo rental service, we'll always have your rental items delivered a 10-14 days before your event! Plenty of time to try on everything and make sure it's perfect – if not, use the green Order Tools & Exchanges button to take advantage of our 100% free sizing exchange service!
Cleveland
Our service has been providing high-quality formal wear rentals to Cleveland residents for nearly 20 years. We have an excellent selection of formal tuxes and suits for any occasion, backed by our fit guarantee and customer-friendly services like free shipping, free exchanges, free home-pickup and other free rental return options. Additionally, grooms with 4 or more paying guests get their tuxes free!
Columbus
Ohiio residents in the greater Columbus area can enjoy renting with America's best-rated online tux rental service, we offer fast and free shipping both ways on our enormous selection of formal wear.
Dallas–Fort Worth
DFW was the destination for one of our very first orders, back in 2004, nearly 20 years ago. Since then we've grown to serve thousands of satisfied customers in the Dallas-Fort Worth region – every tuxedo package comes with our fit guarantee, backed by free replacements/exchanges without you having to send anything back. We'll also send for someone to pick up the items from you whenever you're ready, without any cost to you. We look forward to serving you!
Denver
Rent a tuxedo in Denver or anywhere in the state of Colorado and enjoy using one of the very best online tuxedo rental services: amazing looks, great prices, perfect fit (backed by our fit guarantee and free replacements), early delivery, free shipping both ways and more!
Detroit
Residents in Detroit and throughout Michigan can rent a tuxedo and have it delivered to their door a full 7-10 days before their event, complete with free shipping, easy photo sizing and customer-friendly policies that make it easy and free to return your tuxedo rental.
Houston
We've been serving Texas with our online tuxedo rental services for over 15 years now. Our customer service center is open from 10 am-10 pm local time, so you can contact us by phone or chat any time – and we accept email correspondence 24/7! All rentals will arrive to your Houston residence or desired location 7 days before your event. Ground shipping typically arrives within 3-4 business days of the shipment date – so please try on your items the day they arrive and let us know if you require a free sizing exchange -we'll always ensure you have fitting items in time for your event!
Indianapolis
Tux rental has never been easier for residents of Indianapolis – our formal wear rental service makes it fast and easy to have a complete suit or tuxedo delivered to your door. All of our packages come with a fit-guarantee that is backed by free replacements (we'll send them out without you having to send anything back!), and includes free shipping both ways so you don't have to pay a dime to return your rental.
Kansas City
Tux rental near Kansas City has just gotten better with National Tuxedo Rentals – we'll deliver your tux to your door with all accessories included and a perfect-fit guarantee that is backed by our free replacement policy (you don't even have to send back your items to request a new fit, we'll send replacements right out for arrival well before your event date!)
Las Vegas
Tux rentals in vegas tend to see a lot of action, why not have one delivered right to your door or hotel room? National Tuxedo Rentals guarantees a clean tux with a perfect fit, we'll even ship out repelacement sizes free of charge if anything does not fit (you don't even have to send anything back to get your replacements!).
Los Angeles
Personal tuxedo rentals, theatrical and musical productions, no matter what your need for a tuxedo rental in L.A., we've got you covered. Need to rent for an extended period? We offer rental extensions! Try our tuxedo builder for the easiest tuxedo rental service serving Los Angeles.
Miami
Rent a tuxedo online and have it delivered to the Miami area with fast, free shipping 10-14 days before your event for early try on. Our tuxes come with a perfect-fit guarantee that is backed by our free replacement policy – we'll send out different sizes for a better fit at no cost to you! You don't even have to send the original items back to get replacements, we just send them out without delay so you can be sure to have the best fit before your special event.
Minneapolis–St. Paul
Tuxedo rentals near Minneapolis and St. Paul have never been easier or more affordable than with our online tux rental service. Get an affordable tux package for one flat rate that includes a jacket, pants, shirt, vest/cummerbund, neckwear, studs, cufflinks and a travel garment bag. You'll also get free shipping right to your home in the Minneapolis-St. Paul region.
Nashville
Rent a tux in or near Nashville right from the comfort of your home – National Tuxedo Rentals offers a complete online tuxedo rental experience, with free shipping both ways and fast and free exchanges you've never had a better chance to get the perfect fitting tux you've always dreamed of.
New York City
Getting a tux in New York has never been easier – why travel downtown when you can simply order online? Our distribution center is just a single shipping day away meaning your items will arrive the day after they leave our warehouse. Additoinally, exchanges can be delivered in 1-2 business days at no charge to you!
Orlando
Get your tux delivered to Orlando fast and free using our service, we're on the east coast and can have your tux and/or any exchanges shipped out fast without you having to send your items back first.
Philadelphia
Our distribution center is located in Trenton, little more than a stone's-throw from Philadelphia. Looking for tuxedo rental near or in Philly? We have you covered! Our shipments to Philadelphia arrive just one day after they leave our warehouse.
Phoenix
Arizona customers in the Phoenix area can rent tuxes and have them delivered with FREE shipping 10-14 days before your special event. Your fit is guaranteed using our AI-powered photo sizing and backed by free exchanges (we'll ship out replacements without you having to send anything back).
Pittsburgh
Pittsburgh customers can enjoy fast and friendly tux rental service when shopping with NTR. Your tuxedo rentals will ship from out distribution center in Trenton, NJ which is only 2 business days away via FREE ground shipping.
Portland
We've rented thousands of tuxes to customers and events in Portland, our fast and free shipping ensures you get your formal wear items a full 10-14 days before your event for early try on.
San Diego
Tux rental in San Diego has never been easier: customize your formal wear look, snap a photo for automated sizing and checkout securely online. Your rental will be booked and ready to arrive 10-14 days before your wedding or formal event.
San Francisco–Oakland
We have served San Francisco and Oakland for nearly 20 years as the top-rated online tuxedo rental service. Get a beautiful tux delivered directly to you with free shipping, free return process, perfect-fit guarantee and more.
Seattle
Washington residence of Seattle love our service, because we time our shipments to arrive 10-14 days before your event, our tuxedos always arrive in time for your special day with time to spare for exchanges and fitting arrangements.
St. Louis
National Tuxedo Rentals proudly serves customers in the Saint Louis area. Choose from our affordable tuxedo packages and get your complete look delivered up to 14 days before your event with FREE shipping. You won't pay a cent to return it either – it can be dropped off at any Walgreens or Fedex, or you may use our free home-pickup service.
Tampa–St. Petersburg
Tuxedo rental in Florida has been a specialty of National Tuxedo Rentals for years. Our northeastern distribution center gives us access to the latest formal fashion trends and we deliver them straight to you before any other rental location. Your items will arrive 10-14 days before your event, leaving you plenty of time to try on.