Prom
Tuxedo Rental
Get everything you need for prom at one flat-rate.
Fit guaranteed. Free shipping both ways. Do it all online.
Rent A Prom Tux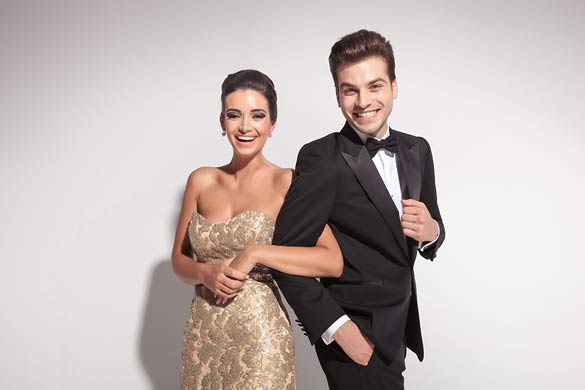 Look Better. Spend Less.
National Tuxedo Rentals will set you up with a prom look, complete with all accessories, for one low price.

Create Your Look
Popular Prom Tuxedo Styles
All of our prom tuxedo packages include accessories that you can customize with thousands of color/pattern choices, totally free!
No Sizes? No Problem.
It's normal to not know your tux sizes in high school. We've got you covered with a few options to get the perfect fit at home.
3D Photo Sizing
Take two photos and our system will measure a 3D model of your likeness to get your sizes.
Use Regular Clothing Sizes
Answer questions about your clothing sizes and our tailors will select the best tux fit.
Measure-At-Home
If you'd prefer to measure yourself at home, we have an easy guide to help.
Your fit is guaranteed, backed by our free replacement policy.
Your tux arrives 14 days before prom. If anything doesn't fit, we'll replace it free of charge! Best of all, you don't have to send anything back to get your new items.
Exchanges are free when requested within 48 hours of delivery. Exchanges requested after 48 hours incur a $15 express shipping fee.
Prom Tux Discounts & Coupons
Save money on your prom tuxedo by taking advantage of the discounts and coupons we currently offer.
Tuxedo packages are currently marked $40 off from regular prices. No coupon code required, build your tux today!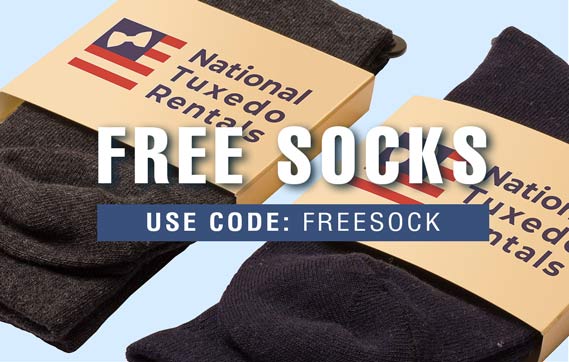 Get a FREE pair of socks with any tux package. Add socks to your package and use code FREESOCK at checkout.
Prom FAQ And Resources
We've gathered all of the answers to your most popular prom rental questions, as well as some helpful links.
Prom Rental FAQ
It's always good to plan ahead! We recommend placing the order for your tuxedo as soon as possible. If you find yourself cutting it close, try to get it done no less than 16 days before prom if possible. We deliver the tuxedo to you 10-14 days before your event, this allows time for delivery and ample time for try-on and exchanges in case something doesn't fit.
Don't sweat too much – it's a tight situation but not dire. If your prom is less than 16 days away – you should choose an express shipping option at checkout so that your items arrive ASAP. You may use the following link to estimate express shipping costs and availability for your specific scenario.
At National Tuxedo Rentals, our prices are extremely competitive. In general, you can expect to get a complete tux with accessories for the same price or less than what our competitors charge for just the jacket and pants alone. Most online tux rental services require you to pay extra for a shirt, tie and other basic accessories. At National Tuxedo Rentals, we tell you the full flat-rate price up-front and include all accessories for free.
Unless your school has a dress code that specifies you need to coordinate with your date, the decision of whether or not to match your date's garment color is entirely up to you! You should discuss it with your date – do you want to match? Do they want to match? It's ultimately a personal decision, but one that you should discuss with your date.
Don't forget, you can also coordinate without matching! Pick a theme, get creative. If you have school colors, perhaps your date could wear one color while you wear the other. You can also just pair colors that look great together – Have Fun! It's Prom!
Prom Tuxedo Resources
Our Reviews Section helps you see what other customers thought of our service. See reviews from Google, Facebook, WeddingWire and more!

The Sizing Guide will help you figure out your sizes if you prefer to measure yourself at home.
Tuxedo Rental: How It Works will answer all your questions about renting a tuxedo online and help you get started.

Our Exclusive Gown Color Matcher will help you zero right in on the perfect match for your date's dress. Browse through Vera Wang, Alfred Angelo, David's, Mori Lee, Allure, and many more.