Our Easy Rental Process
1. Create Your Look
Get the exact style you want using our guided tuxedo builder to create a custom look for a flat-rate with free shipping both ways!
Build A Tux
2. Manage Your Event
Take control of your event: assign your custom looks to your guests and remotely monitor their progress with the Event Manager.
Event Manager
3. Enter Your Sizes
Conveniently get your sizes, your way: choose from our 3D-Photo Sizing option, Easy Sizing Questionnaire or Guided Measurement Form.
Get Sized
4. Book Your Rental
Once an order is placed, your items are set to arrive 10-14 days before your event for early try-on. Early delivery available!
Early Delivery
5. Try It On
Let us know if anything doesn't fit within 48 hours of delivery, we'll replace it free & fast without you sending anything back!
Exchange Info
6. Enjoy & Return
Take it easy, you can keep your items up to 3 days after your event, then send them back in the original box using our free/included postage. Extended Rental Available!
Extend My Rental
Create The Perfect Look
Pay one price, get everything you see below.
Customize with your own color choices.

Flat-Rate from $159 + Free Shipping Both Ways + Free Exchanges
Start Now: Build a Tuxedo
Get Your Measurements
We offer several easy ways to get a guaranteed fit at home: 3D Photo Sizing, guided measure-at-home, or simply by entering known sizes.
Need Help? Check out our tuxedo sizing and measuring guide!
Your Fit Is Guaranteed
If anything doesn't fit, we replace it for free.

Get Your Items
Your items are delivered FREE 2 weeks before your event for you to try-on.
Fit Issue? You don't have to send anything back!
Simply let us know and we'll send fitting replacements.

Wear & Return Your Items
3 days after your event, request free home-pickup or drop the items off at one of 10,000+ Fedex or Walgreens locations.
Extended Rentals? Buy a rental extension to keep your items longer!
Event Style Manager: Coordinate Everything


Create Your First Look you'll register your event as you go.(it's free, we wont ask for your card)


Add Your Friends & Family


Everyone Gets an Email w/ Instructions and a Sizing Form.


Assign Your Custom Tux Designs to Your Group-Members.


You Can Pay for Anyone, or They Can Pay for Themselves.
(checkout options become available for each person after they've been assigned a tux and entered their sizes)

Track Everyone's Progress. Send Reminders & Instructions as Needed.


Have The Time of Your Life.
Register Your Event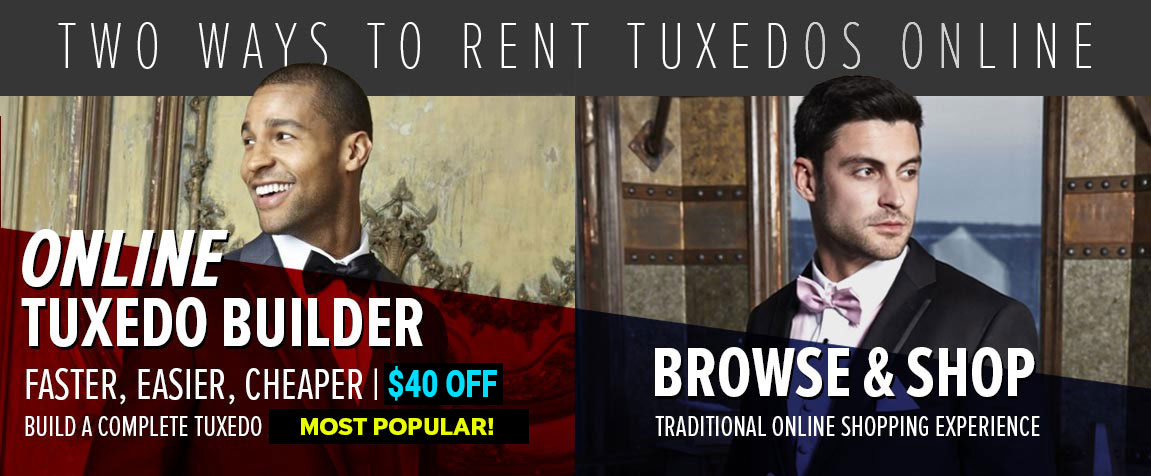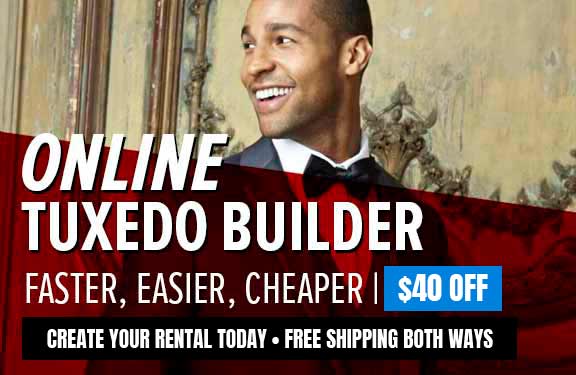 Online Tuxedo Builder
For a cheap and easy, guided experience: the tux builder is the most popular choice for renting a complete tuxedo online. You will be guided through every step of the process, allowing you to make informed decisions in a simplified interface. Best of all, our tuxedo builder offers an astounding selection of 100+ tuxedo styles, ranging in price from $159 to $189.
All packages/prices-ranges include: a tuxedo jacket, pants, shirt, choice of any vest or cummerbund, choice of any long tie or bowtie, studs, cufflinks and a formal garment bag.Build a Complete Tuxedo Now!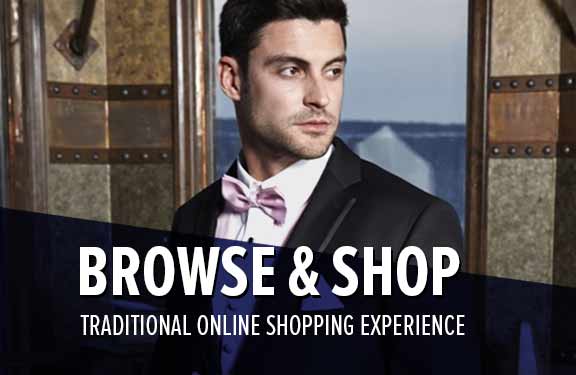 Browse & Shop Our Online Tuxedo Catalog
For a more traditional online shopping experience: use the Browse & Shop portion of our site. This method of shopping is useful when:
You don't want a complete tuxedo package, and are browsing for individual rental or purchase items.
You want to rent from our collections of self-tie neckwear products.
You wish to rent a coatless tuxedo or other customized look that is not available in a complete tuxedo package.
Rent items in addition to your Tuxedo Builder items.
To browse & shop, just choose a category below or from the navigation bar at the top of every page.
Tuxedo Rental: Shop Products & Categories
Tuxedo Rental for Individual Formal Wear Items
Use the browse and shop section of our website to find and rent individual products. Many items are available for purchase in addition to rental. Most product types listed below are included free a complete tuxedo rental package.
Tuxedo Delivery & Exchanges: Faster and Easier Online
Your Tuxedo Rental Will Arrive 10-14 Days Before Your Event
As long as you're not ordering last minute, you'll get your items at least a week before your event. If you are cutting it close, you may want to estimate delivery times before ordering.Estimate Shipping Delivery Times
If Something Doesn't Fit, We'll Exchange It Free For Orders over $50
Try on your items within 48 hours of the time they are delivered. If something doesn't fit, let us know by visiting our website and clicking the [Order Tools & Exchanges] button at the top of our site. We'll send out replacements right away without you having to send back the original items. You may simply return everything in the same box once your rental is complete.
FREE Shipping Both Ways For All Tux & Suit Packages
All tuxedo builder orders automatically qualify for free shipping both ways, as do all orders over $139. Orders over $75 pay just $14.95 for shipping and get free return shipping. Orders under $75 pay $14.95 Delivery + $14.95 Return shipping fees. Your items will arrive in a package containing a pre-paid return shipping label. When you're ready, apply the return label and send everything back in the original box!
Your Rental Lasts Until 3 Days After Your Event
Your items are due back in transit by 3 calendar days after your event. In other words, your items should be in the mail by this time. If you require to hold your items for a longer period you may be interested in purchasing a rental-extension to avoid incurring late fees.