A white tie event is typically the most formal of any formal event type – the pinnacle of formal dress-code, if you will. It's important that you nail the look, lest you want to stick out like a sore thumb.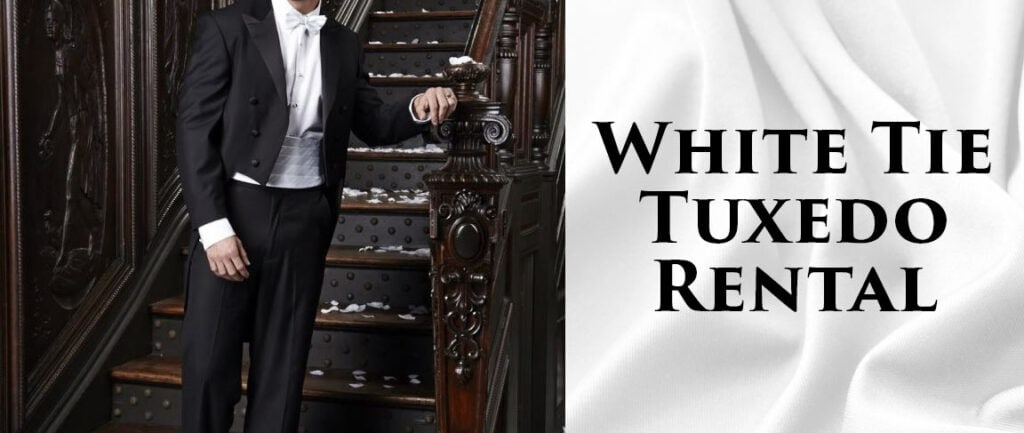 Now, let's discuss what you'll be wearing to your evening event. We'll list the items real quick to give you the rundown, and then we'll discuss them in detail and show some products that would make the cut for your white tie affair.
What To Wear for White Tie

You Must Wear:
Black 'Full-Dress' Tailcoat
Matching Black Formal Pants
White Wing-Tip Tuxedo Shirt
White Bowtie
White Cummerbund
Formal Studs and Cufflinks
Black Patent (Glossy) Formal Shoes

You Should wear:
White Pocket Square
White Suspenders

You May Wear or Carry:
Black Top-Hat
A Cane
White or Ivory Formal Scarf
White Formal Gloves
In Depth: What to Wear
Let's review in-depth what we're going to wear, and what to look for in each item.
Black 'Full-Dress' Tailcoat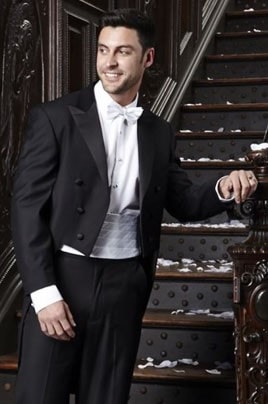 Your tailcoat differs from a standard tuxedo jacket in that it always comes in a double breasted cut that is designed not to be fastened closed. That is, you always leave your tailcoat open, exposing your shirt and cummerbund or waistcoat. A good white-tie tailcoat jacket should also keep very close to your torso for a nice fit. And of course, there is the namesake feature: the coat tails, which typically extend below the waistline to cover a portion of your rear trousers.
Black Formal Pants
Black trousers that match your tailcoat are a must. Remember, not all shades of black are the same, so be sure you get a matching pair of pants to go with the tailcoat you choose. Tailcoat trousers typically feature a satin stripe or satin bead stripe running down the outer pant legs. Finally, your white tie trousers will typically be worn with white suspenders (see further below for more details). When browsing tailcoats in our online catalog or the tuxedo builder, our system will offer pant options that work with your tailcoat, so you won't have to worry too much about your pant selection, we'll only suggest stuff that looks right.
White Wing-Tip Tuxedo Shirt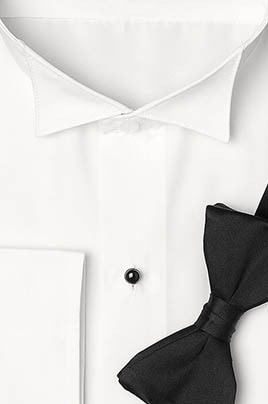 A white tuxedo shirt is an absolute must, and there are a few key features you must look for in a tuxedo shirt for white tie. As has already been mentioned, the shirt can only be white in color. Next, you don't want a shirt with buttons, we're dealing with an ultra-formal occasion, so you'll be fastening your shirt and sleeve cuffs with a formal studs and cufflinks set (more on that below). The final required consideration is the shirt collar – you absolutely must go with a wing-tip collar to pair well with your bow tie. You can opt to wear a pleated tuxedo shirt if you like, but most opt with a flat front as a white tie ensemble already has so much going on already, pleats may be pushing it.
White Bowtie
A white bow tie is required, no other color is really acceptable at a true white-tie event. Some events may relax it, but you're safest sticking with white. You can go with a self-tie option and we recommend that you do, but a pre-tied white bowtie will work just fine if you're not sure how to tie a bowtie, or do not wish to learn. You can go with a subtle print, but please go for luxury. Our solid satin, tapestry, and venetian white bowties are common favorites for white tie.
White Cummerbund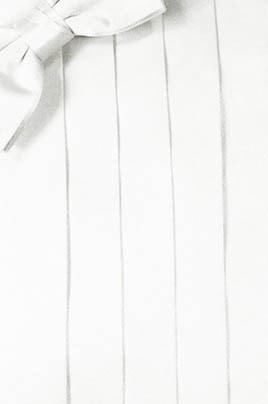 Your cummerbund should be white in color and in most cases should match the print of your bow tie, if any. The cummerbund should be worn horizontally across the front of the lower belly/upper-waist with the pleat folds facing up. Your cummerbund should slightly overlap the belt-line of your trousers with the majority covering your shirt's lower belly area.
Formal Studs and Cufflinks
Studs and cufflinks are necessary for a true formal shirt that requires menswear jewelry to fasten your shit closed as well as your sleeve cuffs. You can opt for simple basic studs and cufflinks with a solid color on a metal setting, or you can go for something more interesting or elaborate with a premium jewelry set. Just don't do something like skulls and crossbones jewelry – we offer those, but we don't recommend them for a white tie event 🙂
Black Patent (Glossy) Formal Shoes
Glossy formal shoes are required for white tie dress-code. You want that glossy formal look. There are matte formal shoes out there but they won't work for white tie, matte shoes pass for dress shoes sometimes, and that's just unacceptable for an ultra-formal full-dress white tie event. You want to glow, and glossy formal shoes help to nail that down.
White Pocket Square
You should wear a white pocket square in your left breast pocket, it adds a flair of luxury to your ensemble and overall just brings more the table. If you go with a pocket square, it should match your bowtie and cummerbund – that means white, in the same print or pattern.
White Suspenders
A pair of white suspenders looks great with the white cummerbund, and really just adds something extra to the look. We stop just short of saying these are required, but we do otherwise strongly urge that you include a set of white formal suspenders with your white tie tuxedo.
Black Top-Hat
Now things are getting interesting, yes – a black top hat is totally acceptable for a white tie event. It's definitely not required but its absolutely accepted. If you want to go full-on ultra-formal, nothing is stopping you from upping the ante with a luxurious top hat.
A Cane
A white or black cane are acceptable. If you want, a wood-grain cane is acceptable too. We offer the standard white or black options
White or Ivory Formal Scarf
If you are already wearing a top hat and carrying a cane, we would say the scarf is now required. Otherwise, the scarf is optional but is absolutely suitable an acceptable for white tie.
White Formal Gloves
Less and less common, but still acceptable are white formal gloves, which can be purchased from our store.
Rent a Pre-Made White Tie Tuxedo Package
All white tie rental tuxedo packages below include everything you need, including shoes.
Deluxe Package (All Recommended Accessories) – $196.90
Super 150's Modern-Fit White Tie Tuxedo Package
View / Rent
Includes:
Super 150's Tailcoat
Pants
Shirt
Bowtie
Cummerbund
Studs
Cufflinks
Shoes
Pocket Square
Socks
Suspenders
Garment Bag
Super 150's Modern Fit White Tie Tuxedo Package (Slim Shirt/Pants)
View / Rent
Includes:
Super 150's Tailcoat
Slim-Fit Pants
Slim-Fit Shirt
Bowtie
Cummerbund
Studs
Cufflinks
Shoes
Pocket Square
Socks
Suspenders
Garment Bag
Deluxe White-Tie Package – $191.95
Super 150's White Tie Tuxedo Package
View / Rent
Includes:
Tailcoat
Pants
Shirt
Bowtie
Cummerbund
Studs
Cufflinks
Shoes
Socks
Suspenders
Garment Bag
Super 150's White Tie Tuxedo Package (Slim Shirt/Pants)
View / Rent
Includes:
Tailcoat
Slim-Fit Pants
Slim-Fit Shirt
Bowtie
Cummerbund
Studs
Cufflinks
Shoes
Socks
Suspenders
Garment Bag
Standard White-Tie Package – $188
Super 150's Standard White Tie Tuxedo Package
View / Rent
Includes:
Tailcoat
Pants
Shirt
Bowtie
Cummerbund
Studs
Cufflinks
Shoes
Garment Bag
Super 150's Standard Slim Fit White Tie Tuxedo Package
View / Rent
Includes:
Tailcoat
Slim-Fit Pants
Slim-Fit Shirt
Bowtie
Cummerbund
Studs
Cufflinks
Shoes
Garment Bag