Cheap Tuxedo Rental
Save big on your tux rentals and forward the savings to other expenses for your wedding or upcoming formal event.
Try our Tuxedo Builder | $149 Tux Rental
Cheap Tuxedos & Tux Rentals

Quick Answer: A complete quality tuxedo rental is only $159 – see our complete packages. 
$139 Coatless Options Available.
Price includes tuxedo coat and pants, choice of shirt, vest/cummerbund, any style tie, jewelry, a trevel garment bag & more!
Tuxedo Rental Near Me: We deliver anywhere in the US – tuxedo rental near you.
If you're on the lookout for one of the best deals on quality tuxedo rentals, our tuxedo rental guide will set you on the right track. We'll tell you how to build a tuxedo package, and we even include a special offer code to upgrade your tuxedo package absolutely free – getting you the maximum value for your dollar. The highest of quality tuxedos are now available with delivery direct to you at your home or business 10-14 days before your event.
Cheap Tuxedo Prices
Tuxedo Rental Cost – Only $159
At National Tuxedo Rentals, the cost of a tux rental is just $159. Remember: exchanges for sizing are 100% free and shipping is also free both-ways (we include a pre-paid return shipping label to return every rental order free-of-charge.)
If you're concerned about pricing the tuxedo builder is an excellent option for keeping tux rental costs to a single flat-rate. See below for more details on how you can save money when renting with National Tuxedo Rentals.
Get a FREE Tuxedo or Suit
We offer a free tuxedo for anyone who plans to rent with a group of 4 or more other people (even if you all pay separately – that's okay). For more details, see our free tuxedo & suit offer.
FREE Dress Socks ($4.95 Value!)
Use coupon code: SOCKME at checkout when you rent a complete tuxedo with dress socks of your color choice.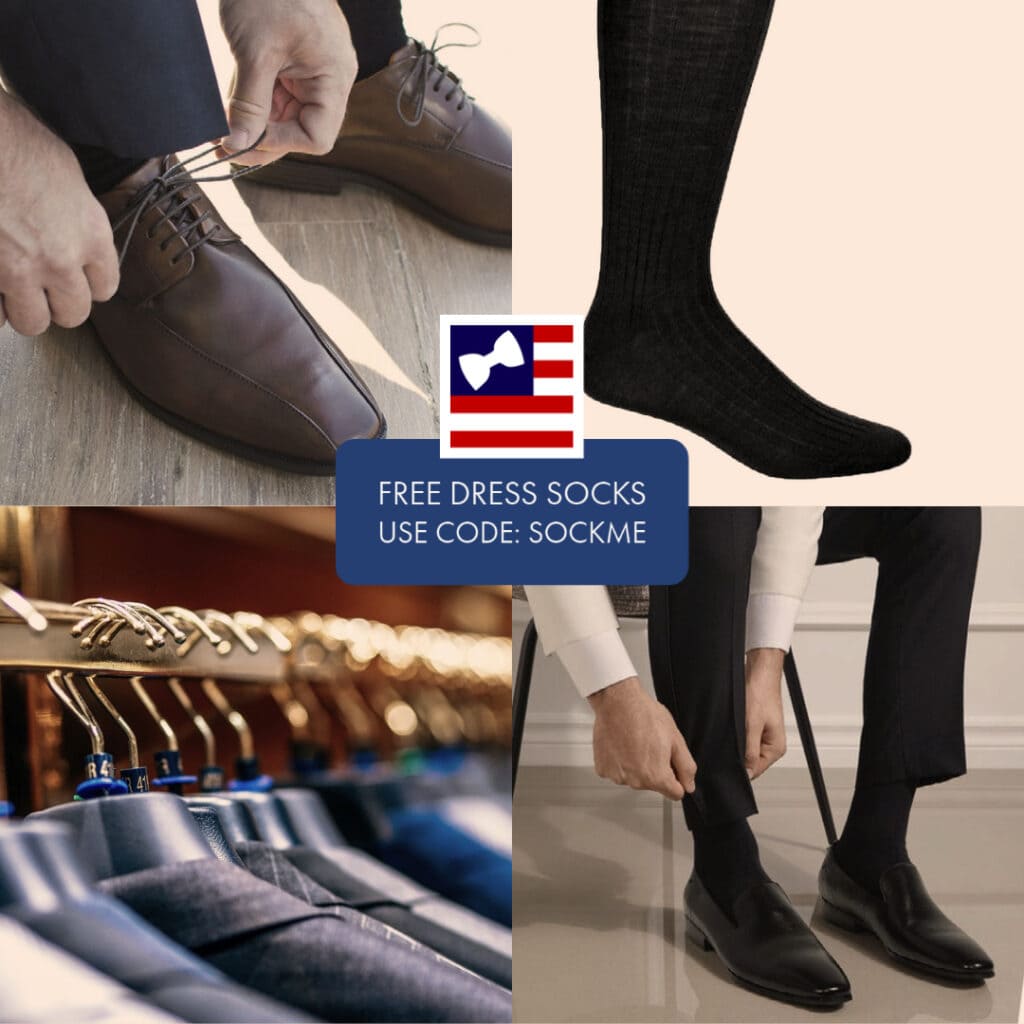 Common Questions about Cheap Tuxedo Rental
Everyone is skeptical when buying 'cheap' – so let's quick answer a few questions that you'll naturally have about our competitively priced tuxedo rental options.
Is renting a tuxedo expensive?
It can be expensive to rent a tuxedo, but it doesn't have to be, and it isn't at National Tuxedo Rentals. You can expect to pay $180 – $260.00 and more at final checkout for the same tuxedo rental at the big tuxedo rental chain store. However, at NationalTuxedoRentals.com, you can rent a complete tuxedo package and have it shipped directly to your door for $159, which includes a FREE return shipping label to send it back.
$159 sounds really cheap for a tux, so what's included? Short answer – Everything but your shoes!
Every rental package we offer, even the $159 'Mayor' tuxedo package includes the following items:
Tuxedo Jacket (60 different styles at this affordable price)
Choice of Matching Tuxedo Pants (Multiple coordinating options, depending on coat style)
Choice of Formal Shirt
Choice of Neckwear:

Bowtie (300+ Color/Style Options)
Long Tie (300+ Color/Style Options)
Skinny Tie (300+ Color/Style Options)

Choice of either:

Tuxedo Vest (400+ Color/Style Options)
Cummerbund (65 Color Options)

Choice of Formal Jewelry
Garment bag for easy transportation
There are also premium upgrades that are available at extra cost:
Choice of any Formal Tuxedo Shoes (+$19)
Matching Pocket Square (+$4.95)
Suspenders (+$8)
Are cheap tuxedos any good?
Our prices are not only affordable, but our policies are the fairest and most customer-friendly in the online rental business. Additionally, our tuxedo quality is of the highest in the industry and great care is taken in the tailoring and assembly of each rental we ship to our customers. .
Additionally, if brand names get you excited, you'll be happy to know our $159 tux package includes options from Michael Kors, Ike Behar, Perry Ellis, CARDI, Joseph Abboud, Claiborne, After Six, Jean Yves, CHAPS-Ralph Lauren, and other top formalwear designers.
How to Rent a Quality Tuxedo for Cheap
Here's how to rent our $159 tuxedo package. It's so incredibly easy, fast and cheap!
Visit our Affordable Tuxedo Rental Packages category
Chose from one of the many different affordable tuxedo styles in this price-tier: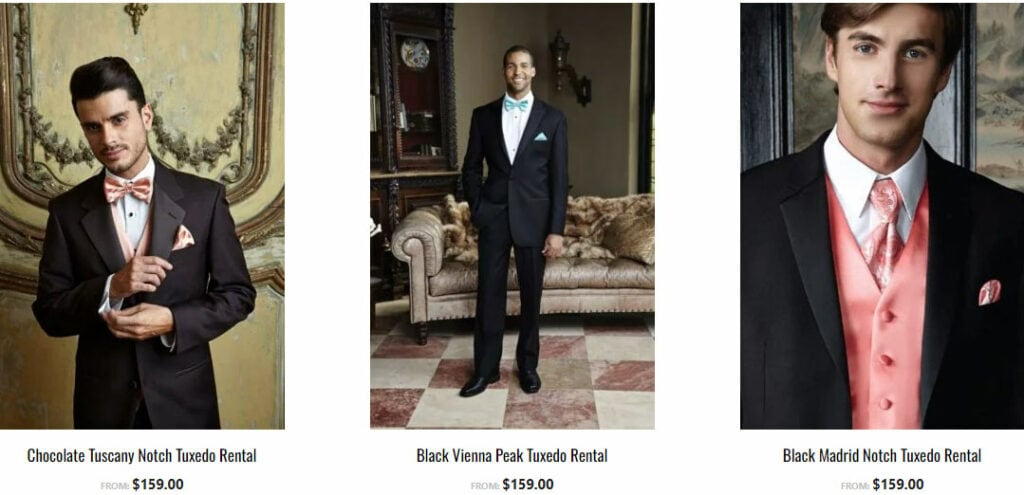 Continue following the step-by-step instructions, choosing the your included tuxedo items of your choice until you reach the end of the tuxedo builder, where you'll add the package to your account for rental.