Update as of March, 2017: The Wedding Tuxedo Manager has evolved into the Group Tuxeod Manager, which has all of the same features and benefits and more. Works for weddings, and just about any other type of event / group you can imagine!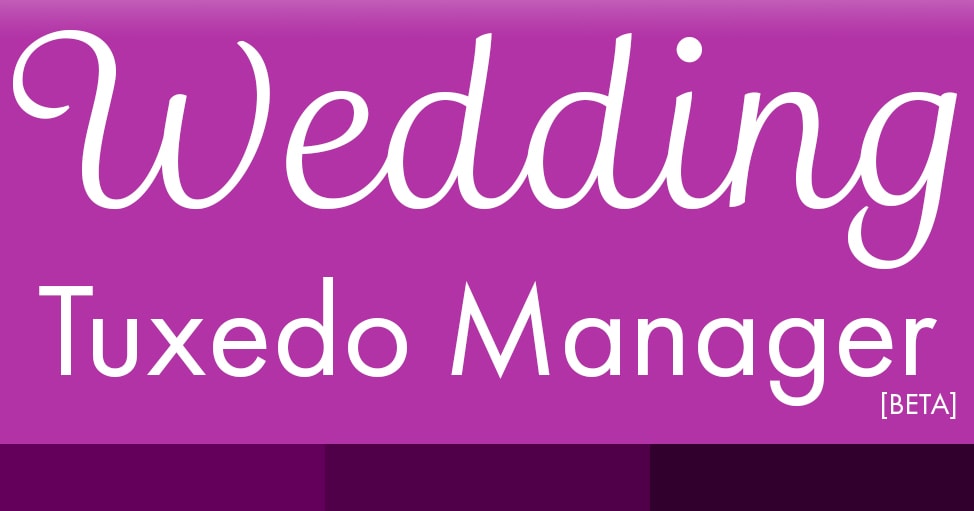 Getting Wedding Tuxes Has Never Been Easier!
Introducing the all-new Wedding Tuxedo Manager an exclusive new web-app for our wedding customers. Signing up is 100% Free and there are no additional charges. In fact, registering can get you unique discounts personalized for your wedding party to help you save for your big day!
Why You'll Love It
No Pushy Salesmen – Take the time you need to find your perfect tux
You don't have to wrangle your friends and family to meet at a tux shop, you can do it all from home
Does your wedding party live out of town, out of state? No matter! The Wedding Party Manager makes it easy.
You get a top-down overview of your wedding party and tuxes via the Wedding Dashboard
Features:
Design your own tuxedos, as many as you want, and save them to your wedding account.
Add wedding party members by entering their name and email
Assign the tuxedos you create to the friends and family in your wedding party
When you add a new wedding party member, they are automatically sent a sizing request email with instructions to get their tux sizes
You can see who has submitted their sizes, and let them know you're waiting
Request tuxedo samples to try on for a discounted flat-rate of $30-per-tux + shipping fees.
Book your wedding tuxes (you can pay for everyone, or let everyone pay for themselves – up to you!)
Get free VIP discounts for our store sent to your wedding offer box
Much more!
Register Today for FREE!
Visit the Wedding Tuxedo Manager to register your wedding party for free!