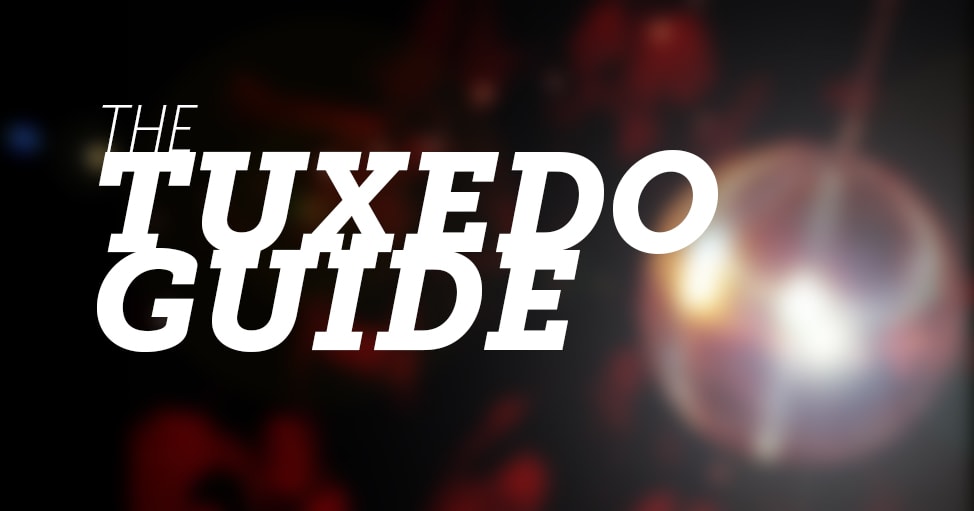 Introduction
Welcome to the National Tuxedo Rentals Tuxedo Guide, this page will walk you through the basics (and not-so-basics) of tuxedos and formal wear in general. Read through as little or as much as you like. To skip to a certain section, just use the table of contents below.
The Tuxedo Guide is a new section we're launching at NationalTuxedoRentals.com, as such – it may not have certain information you are looking for. We will be constantly updating this area over the next few weeks. If you have a question: please send us a message or call us at 1 888 348 4547 monday through friday, 10am-10pm EST.
Tips/Instructions for Trying On Your Tuxedo
Step 1: The Shirt
Put on your shirt as if you were trying on any dress shirt. Instead of buttoning up standard buttons attached to the shirt, we're going to fasten it using shirt studs and cufflinks. Studs will be used for the top 4 buttons of your shirt, below the collar (do not use a stud for the collar). Fasten the front with the studs, similar to how you would button a shirt, and then do your sleeve cuffs using the cufflinks.
Step 2: Pants & Shoes
Now, put on your tuxedo pants while tucking in your shirt to the pants. Once your shirt is tucked, zip up your zipper, and fasten the waist. Use the adjustable waist band/clasp fasteners to extend or reduce the waist until the fit is snug yet comfortable. Once this is done, put on your shoes so that you are wearing your pants at full-height.
Step 3: Neckwear & Accessories
Put on your neckwear and vest or cummerbund. All of these accessories come with adjustable bands or mechanisms, please use them until the fit is snug and comfortable.
Step 4: The Coat
The last step is the easiest – slip the coat on and fasten it closed using the front button. If your tux has more than one button, leave the lowest button un-buttoned. This is important as, multi-button tuxes are intended to be worn this way and the fit is only true when worn as such.
If anything does not fit right: please request an exchange using the green 'Order Tools & Exchanges' button at the top-right of the page. Mobile users will need to open the menu first to reveal the button.
The Story Behind The Tuxedo…
What is the story behind the "tuxedo"? Popular belief credits a wealthy tobacco magnate of the 19th century known as Pierre Lorillard IV with the tradition.
Pierre and his family lived outside NYC in a residential district called Tuxedo Park. The Lorillards circulated among the highest social circles and were instrumental in establishing Tuxedo Park as an elite destination for the world's rich and famous. Interestingly, the residents and regular guests of Tuxedo Park soon established their own social organization called "The Tuxedo Club". We actually own a retail tuxedo store also called The Tuxedo Club located at 520 Cinnaminson Ave in Palmyra, NJ. www.the tuxedoclub.net
In a radical departure from traditional fashion Pierre Lorillard commissioned a modified "tailless" black jacket to wear to the Tuxedo Club's first annual ball. Interestingly, Pierre Lorillard did not wear his new jacket to the ball but his son along with some of his friends decided to take the risk. The short jacket was instantly admired as a striking fashion statement and was quickly copied. The "tuxedo," so dubbed after the town of its debut, went on to become a timeless classic.
Today the tuxedo remains the quintessential attire for special occasions. Most credit Pierre Lorillard's fashion deviation for the enduring standard of elegant fashion we have come to know as the Tuxedo.
Tuxedo Basics: What is a tuxedo?
A tuxedo is a type of men's formal eveningwear, typically consisting of a fine black wool coat with satin lapels, black trousers with a satin stripe on the outside of each leg, a white formal shirt, a choice of neckwear – most commonly a bowtie or long tie, and finally a pair of patent leather tuxedo shoes.
The above items are essential to a tuxedo, however, there are additional items that are commonly worn in a formal outfit that can greatly enhance and modify your look. Such items include: Formal jewelry (studs and cufflinks), suspenders, or even a colored pocket square/handkerchief.
Our complete tuxedo packages are available from just $159 through our rental tuxedo builder, and they include a Tuxedo coat, pants, shirt, choice of vest or cummerbund, choice of bowtie or long tie, formal studs and cufflinks, and a garment bag – plus, your package includes a free return shipping label to send it back at no cost to you!
What types of tuxedos are there, which should I wear?
There are several ways tuxedos can differ from one another, and so that makes for a lot of choice when browsing for a tuxedo, but it also can be intimidating if you're not sure what to look for.
The good news is, you only really need to worry about three characteristics to get by, these are the primary ways in which tuxedos can differ:
Tuxedo Color
Tuxedos can come in many colors, but are most commonly worn in black, white or ivory. However, other colors are very popular recently, such as navy blue, steel, charcoal and heather grey.are very popular for 2020-2021.
Color choice is mostly a personal preference, with a few exceptions: if your event specifies a black tie or white tie dress code, you must wear an accordingly-colored tuxedo. Also, there is a light suggestion that lighter colored tuxedos are daytime attire, while darker colors are intended for night time wear – this rule is not as strict as it once was, and may be bent or broken in most cases today.
Tuxedo Lapel Style
Tuxedo lapels are the flaps that fold outward from the middle of your tuxedo jacket, just below the collar. Tuxedos may feature lapels in a few different styles:
Notch Lapels
Notch lapels feature a triangular notch cut from just below the top of each lapel. The notch lapel style is very popular today and appropriate for any formal occasion. Many people feel comfortable wearing notch lapels due to their familiarity, as notch lapels are very common on the modern business suit.
Peak Lapels
Peak Lapels are another common lapel style, they feature an outward/upward pointing triangular peak shape on the outer edge of the lapel. Some people feel they have a more 'formal' appearance over notch lapels, but that is purely subjective; a peak-lapel tuxedo will be appropriate for any event.
Shawl Lapels
The fashion of the shawl lapel is rooted in tradition and its flattering features make it perfectly suitable for various formal occasions. The shawl is widely accepted as the proper dinner jacket and is often a popular choice for events attended by an individual. The prominent features of the shawl, a round shape collar with a deep neckline, create a picture perfect frame for the presentation of complete formal wear dress. Whether you are attending the opera, dressing for dinner on a cruise, or are a guest at a Black-Tie affair, we love a shawl lapel jacket complimented with a crisp white wing-tipped shirt, bow-tie, studs and cufflinks.
Single vs Double Breasted Tuxedos
A single breasted jacket has a single column of buttons down the center of the jacket when closed (buttoned). Double breasted jackets feature two columns of buttons on the front jacket closure. It's best demonstrated with a picture, so we invite you to take a look in how single and double-breasted tuxedo jackets may differ…
What types of fabric do the tuxedos come in?
Tuxedos come in many fabric options today and at National Tuxedo Rentals we cover all of them. Tropical Worsted Wool, Super 100's, Super 120's, Super 130's, Super 150's Wool and Wool/Synthetic, as well as microfiber an polyester. The Super 100-150's represents the thread count which in turn results in a softer lighter feeling fabric. For more understanding on fabrics, read of Tuxedo Fabrics 101 Basics.
What styles do tuxedos come in?
Tuxedos today come in many variations. Historically, wedding attire has been classified by the time of day and level of formality. In contemporary weddings, however, regardless of time of day, the groom and all wedding party members may select whatever style the bride and groom prefer and will commonly wear vests that match or complement the color(s) of the bridesmaids' dresses. For a more traditional wedding, there are specific styles that are appropriate.
What is the difference between a traditional wedding and a contemporary wedding?
The term, Traditional refers to a type of Wedding where the choices made would model those of Weddings from generations before. Traditional Weddings generally follow strict guidelines of etiquette and offer limited flexibility. The term, Contemporary refers to all choices that differ from the Traditional approach in a more modern, personalized approach.
Is it appropriate to have a contemporary wedding?
Wedding choices are as unique as the couples who make them. Unless you are opting for a Traditional ceremony, you are free to make decisions based on your personal wants and needs. After all, this is YOUR day to shine!
What should the groom and groomsmen wear for the wedding to be considered traditonal?
When choosing the Groom and Groomsmen's attire, you must first decide whether you want a formal or an informal ceremony. Also, the formalwear you choose depends on the time of day the ceremony is taking place. Please read our "How to dress the Groom and Groomsmen?" article.
Do all the men in the wedding party have to dress alike?
In a very Traditional Wedding, it is appropriate for all members of the Wedding Party to be identical in their attire. However many couples choose a slightly less Traditional approach and distinguish the Groom from the Groomsmen. Please read our "How to dress the Groom and Groomsmen?" article.
Should all the men in the wedding party wear the same shoes?
Absolutely! With either a Contemporary or Traditional Wedding it is very important that the shoes be the same. Patent leather shoes are the best choice and are available for purchase or rental for a nominal fee.
How could I distinguish the groom from the rest of the wedding party through their choice of formalwear?
There are many popular ways to distinguish the Groom from the rest of the Wedding Party. Please read our "How to dress the Groom and Groomsmen?" article.
The following is a partial list showing some examples:
The Groom may wear a tailcoat, while the Groomsmen could wear coordinating tuxedos.
The Groomsmen could wear a vest or cummerbund that is color coordinated with the Bridesmaid's gowns.
The Groom could wear a different style of vest or tie from the Groomsmen that would compliment the Bride's gown.
Is it appropriate for the men to wear black formalwear during the day?
In a strictly Traditional Wedding, only gray formalwear is worn before 6 p.m. However, many Wedding couples choose to create their own tradition and wear black at any time.
If the Bride's gown is ivory, does it change any part of the men's attire?
If you are considering a white tuxedo and your bride's dress is ivory, you should probably switch to ivory. The general rule of thumb is that everyone should be all in ivory or all in white. While you don't have to follow this, it will help everyone look the same in your wedding pictures.
Are there any guidelines for the correct tuxedo choice for the Groom based on the Bride's gown?
Yes there are! For a Traditional Wedding, the following factors help guide the tuxedo choice: the time of day and the formality of the Bride's gown. For a Contemporary Wedding, the tuxedo selection is guided by the length and formality of both the Bride and Bridesmaid's gowns. In addition, the following rule always applies: Neither a Groom or Groomsmen should out dress the lady they escort. Please read our "How to dress the Groom and Groomsmen?" article.
Should the Groom's father be formally dressed?
Though he is not required to dress formally, it is a good idea for him to be in formalwear. The Groom's father is an important person in the Wedding, and will feature prominently in the Wedding photos.
Should the Bride's father wear a tuxedo?
This is a must! In many cases he will walk down the aisle with the Bride and should compliment her. He will also be featured in the Wedding pictures and should dress accordingly.
Should the Ring Bearer be dressed like the Groom or Groomsmen?
The ring bearer should be identical to the groom. This is the most popular and proper choice. The ringbearer is to look like a miniature groom, especially if the flower girl is dressed similar to the bride. It still comes down to a personal decision though as some couples are dressing the ring bearer to match the groomsmen.
Are tuxedos made in ringbearer sizes?
Yes! All the tuxedos that are made for adults are also made in childrens' sizes. Boys tuxedos start at a size 3 and go to size 18 (which most of the time a young boys age is his coat size; for example a boys 3 would fit an average 3 year old).
How long can we wait to rent or buy our tuxedos?
Please give yourself ample time to make sure that your tuxedo fits properly. You will want to give yourself some leeway in case you need to exchange an item.
If the groom is in the military, should he wear his uniform in the wedding?
If the groomsmen are also in the military they, including the groom, may all wear their uniforms. If they are not all in the military it becomes the choice of the groom to wear a tuxedo and match the rest of the party or wear his uniform and set himself apart.
Should I wear a vest or a cummerbund?
That's totally up to you! Some people view cummerbunds as 'more formal' than a tuxedo vest, but that is not a law, just a preconception. The reality is that most people wear tuxedo vests, as they are appropriate for most formal occasions including weddings and prom.
Whichever you like the look of better, that's what you should go with.
Should I Wear a Bow Tie, Long Tie, or "Skinny" Long Tie with my Tuxedo?
In most cases, this is another personal choice that comes down to whichever look you prefer. However, there are a few exceptions:
If you're wearing a cummerbund: you must wear a bowtie, it's the only way the cummerbund works.
If your dress code specifies bow ties only: abide the dress code, you never want to deviate – you'll stand out in the wrong way.
What kind of shirt should I wear with my Tuxedo?
Tuxedo shirts differ in a few simple, but important ways. Familiarizing yourself with these differences will help you make the right decision in your formal shirt…
Pleated vs Non Pleated Tuxedo Shirts
Tuxedo shirts often have 'pleats' on the front of the shirt on each side of the button closure, running vertically from the shoulders down to the waist. Other shirts come non-pleated, or 'plain front' – which is just as it sounds – plain, as in no pleats. It's entirely a personal preference – however, if you're wearing a cummerbund, we recommend pleated shirts as the pleats lend a wonderful aesthetic to your look where the pleats disappear behind the cummerbund.
But all in all – whichever look you like best, that's the look for you.
Tuxedo Shirt Collar Types
Wingtip Collars are minimal, consisting merely of two outward-pointing triangles, which tend to lend a perfect frame to a bowtie. We recommend against wearing a long tie with a wingtip collar shirt, always wear a bowtie.
Laydown Collars are the 'regular' style collar you would find on a common dress shirt. They work great with long ties. They are compatible with bowties, but a wingtip collar would really enhance the bowtie look, so we recommend that – but you are free to bend or break this rule.
Mandarin Collars are a unique style of collar that typically worn with a button cover, which is a jewelry accessory that is literally a cover for the collar button. Mandarin collars are minimal, and do not feature any protruding points as found in the above two collar styles.
Formal Shirt Color Choices
Tuxedo shirts can come in any color, and the decision to wear a color is entirely up to you. The classic choice is of course white with a black tux, however it's not uncommon to substitute a black shirt for a different take on the black tux look.
If you're wearing a tuxedo that is not black, many prefer to match the color of their tux. In cases where a matching color is not available, it is safe to go with white. In fact, it's safe to go with any color as long as you think it looks good.
When in doubt, remember: white is classic, but anything is fair game.